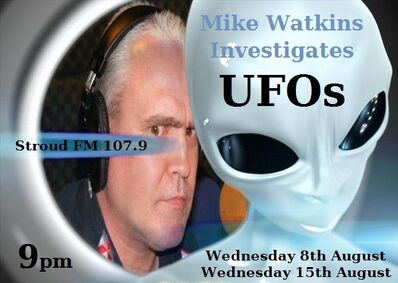 Promotional Information
What exactly are UFOs? Are they aliens, military aircraft or easily explained phemomena? Mike Watkins tries to get to the bottom of the subject, looking into UFO sightings throughout history and by analysing sightings he had in Stroud and Gloucester a number of years ago. Stroud FM presenter Paul Farrar recalls an encounter he had with a UFO and Chad Wornfoot reports on some fascinating local sightings reported in recent years. Music from Little Angels, Hawkwind, Joe Satriani, Monster Magnet and Oasis.
Ad blocker interference detected!
Wikia is a free-to-use site that makes money from advertising. We have a modified experience for viewers using ad blockers

Wikia is not accessible if you've made further modifications. Remove the custom ad blocker rule(s) and the page will load as expected.