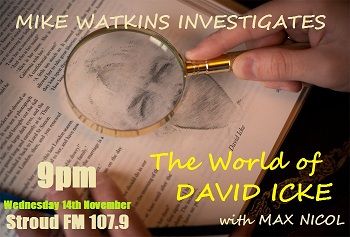 Promotional Information
In this episode we take a look at the King of conspiracy theories – Mr David Icke. Visionary, lunatic or possibly both? Mike Watkins and Max Nicol take an in depth look at the man's incredible revelations over the years. Believe it or not, many of his ideas have proven to be correct; however there are one or two that need more than a little bit of convincing. In this programme we delve into subjects as diverse as the Illuminati, reptoid hypothesis, moon matrix, problem reaction theory, the Anunnaki and the Sumerians and many more. Featuring music from The Charlatans, Judas Priest, Alice Cooper and Fleetwood Mac.
Ad blocker interference detected!
Wikia is a free-to-use site that makes money from advertising. We have a modified experience for viewers using ad blockers

Wikia is not accessible if you've made further modifications. Remove the custom ad blocker rule(s) and the page will load as expected.