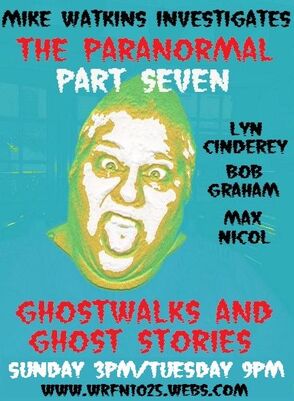 GHOSTWALKS & GHOST STORIESEdit
Mike Watkins investigates another helping of paranormal tales from the legendary Lyn Cinderey, Gren Carter (aka Bob Graham) and Max Alexander Nicol. Learn all about what to expect on the ghostwalks around Gloucester and the gruesome tale of how Hester's Way in Cheltenham got its name. All this plus a plethora of paranormal tales from around the UK involving cats, mediums, Romans and even aliens!
First Broadcast on Stroud FM - February 5th, 2014.