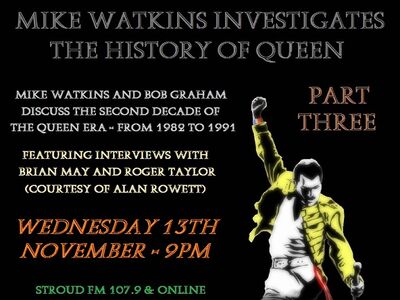 Promotional information
The third and final part of my Queen documentary looks at the last 10 years before Freddie Mercury's death. Featuring a discussion with Mr Gren Carter (aka Bob Graham) about the way the band developed during the 1980s. Hear a selection of myself and Bob's favourite tracks from the period between 1982 and 1991 and some other guys called Brian May and Roger Taylor talking about the stories behind some of their biggest hits and recalling some fond memories of their time with the band.
Ad blocker interference detected!
Wikia is a free-to-use site that makes money from advertising. We have a modified experience for viewers using ad blockers

Wikia is not accessible if you've made further modifications. Remove the custom ad blocker rule(s) and the page will load as expected.