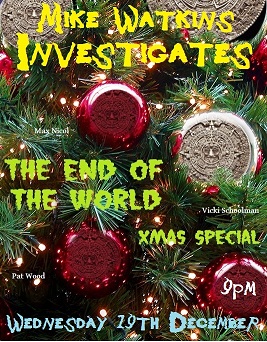 Promotional Information
Mike Watkins, Vicki Schoolman, Pat Wood and Max Nicol discuss the way in which the media built the concept of the end of days. With a mixture of humour and serious debate, everything from consumer culture, the binary trap, suppressed knowledge and progress, the education grid, religious fanaticism, ufology, Phillip Schofield, natural disasters, well blessing and the Yellowstone Volcano wiping out all life on Earth are explored. Featuring music from Europe, Thunderclap Newman & Blue Oyster Cult.
Ad blocker interference detected!
Wikia is a free-to-use site that makes money from advertising. We have a modified experience for viewers using ad blockers

Wikia is not accessible if you've made further modifications. Remove the custom ad blocker rule(s) and the page will load as expected.