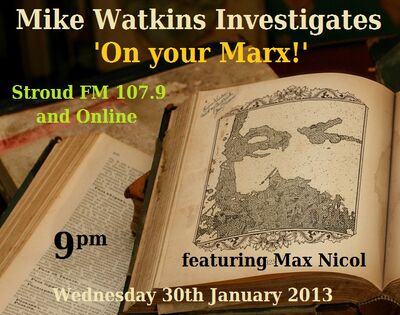 Promotional Information
Edit
Tonight's show takes a close look at the growing Marxist movement in the UK and around the world. Max Nicol joins Mike Watkins in the studio to investigate the subject and finally puts to bed the theory that today's youth are totally apathetic about politics. Ever wondered what Marxism actually is – and how it relates to just about everything you experience in your everyday life? Find out what the mainstream media aren't telling us.
Featuring music from T Rex, Cast, Pulp and Manic Street Preachers.
Ad blocker interference detected!
Wikia is a free-to-use site that makes money from advertising. We have a modified experience for viewers using ad blockers

Wikia is not accessible if you've made further modifications. Remove the custom ad blocker rule(s) and the page will load as expected.