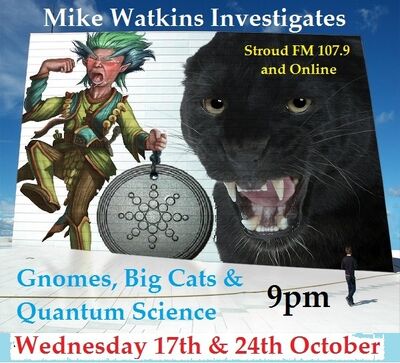 Promotional Information
In a non-stop rollercoaster of a show, Pat Wood, Vicki Schoolman and Paul Farrar join Mike Watkins, investigating tales of supernatural childhood experiences and visions, big cat sightings in and around Stroud and questioning the validity of world history. They also delve into the realm of quantum science and our concept of reality, discuss the dangers of our financial market and there's even a scientific investigation by Chad Wornfoot into why belly button fluff is usually blue! As if that wasn't enough, we have music from Queen, Boston, Slitzkin, Pink Floyd, Tom Jones and Manic Street Preachers.
Ad blocker interference detected!
Wikia is a free-to-use site that makes money from advertising. We have a modified experience for viewers using ad blockers

Wikia is not accessible if you've made further modifications. Remove the custom ad blocker rule(s) and the page will load as expected.