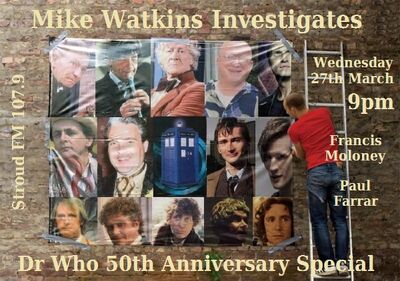 Promotional Information
Edit
In the week that Doctor Who returns to our screens, Francis Moloney, an actor with The Offstage Theatre group, a local company that stages comedic Doctor Who plays at conventions dedicated to the series all over the world – and who also runs the Gloucestershire Doctor Who Group 'The Mind Robbers', joins Stroud FM Doctor Who enthusiasts Paul Farrar and Mike Watkins to discuss how the longest running science-fiction in the world has remained popular for so long. How do the classic and modern series compare? Who is your favourite Doctor… or companion… or enemy? What are the best stories and episodes to grace our screens? Will you agree with us? Featuring between the chat tracks from The Four Tops, UFO, Ocean Colour Scene and Louis Armstrong.
A re-edited version of the show, featuring Daleks and added sound-effects was broadcast as part of the Doctor Who Anniversary in November 2013. Excerpts from the show were used by BBC Radio Gloucestershire, Somerset, Wiltshire and Bristol's Community Radio Show.
Ad blocker interference detected!
Wikia is a free-to-use site that makes money from advertising. We have a modified experience for viewers using ad blockers

Wikia is not accessible if you've made further modifications. Remove the custom ad blocker rule(s) and the page will load as expected.