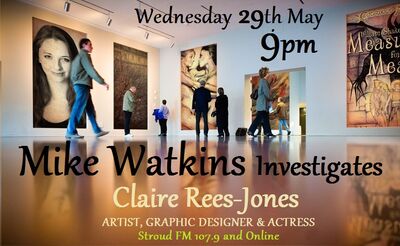 Promotional Information
Edit
This week's 'Mike Watkins Investigates' features local artist, graphic designer and actress Claire Rees-Jones. Originally from Oxford, but now well and truly entrenched in Stroud, Claire is fast becoming one of Gloucestershire's rising stars. Listen to her fascinating story and hear a selection of her favourite music.
Ad blocker interference detected!
Wikia is a free-to-use site that makes money from advertising. We have a modified experience for viewers using ad blockers

Wikia is not accessible if you've made further modifications. Remove the custom ad blocker rule(s) and the page will load as expected.