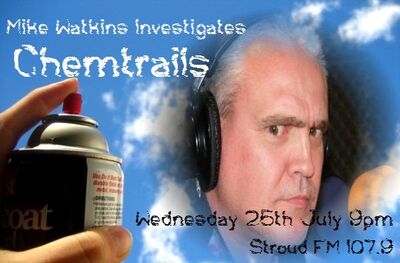 Promotional Information
In the first show of a brand new fortnightly series on Stroud FM, Mike Watkins looks at the controversial subject of chemtrails. Featuring an in depth interview with artist Vicki Schoolman, a serious discussion with Stroud FM presenter Paul Farrar and a touch of humour and factual information provided by comedian Chad Wornfoot. Music from ELO, Blind Melon, Cast, David Bowie, Billy Taylor Trio, Metallica, Paul Farrar and Lynyrd Skynyrd.
Ad blocker interference detected!
Wikia is a free-to-use site that makes money from advertising. We have a modified experience for viewers using ad blockers

Wikia is not accessible if you've made further modifications. Remove the custom ad blocker rule(s) and the page will load as expected.